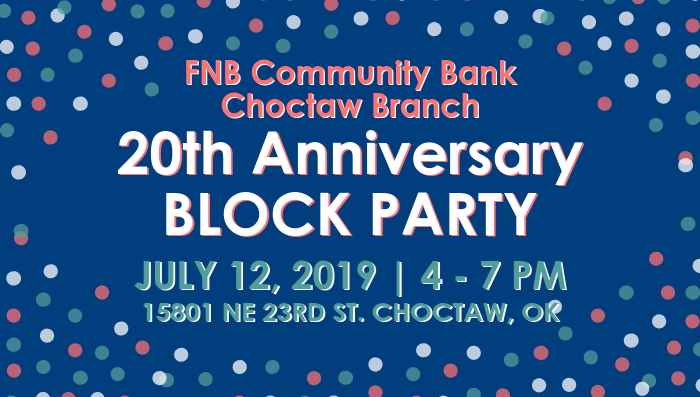 Choctaw's 20th Anniversary Block Party Celebration
06/12/2019
By: Julie Waddle
Published in: Events
You're invited to a 20th Anniversary Block Party Celebration for FNB Community Bank's Choctaw Branch!
July 12, 2019 4 - 7 pm
15801 NE 23rd St. Choctaw, OK 73020
We will have GAMES, Prizes, and even an inflatable MONEY-CATCHING machine!

We will be serving FREE hot dogs and hamburgers from FNB's grill, as well as FREE snow cones from Mr. Tony's Shaved Ice for the first 100 people. Upbeat Treats Concessions will also be there with more goodies for sale!
LOCAL CHOCTAW BUSINESSES: Please join our event and set up a table/booth with a game and prizes for all those who attend to enjoy. You may hand out business cards or flyers for your business at your table, too! Email [email protected] to reserve your spot before we fill up!
Back to Blog