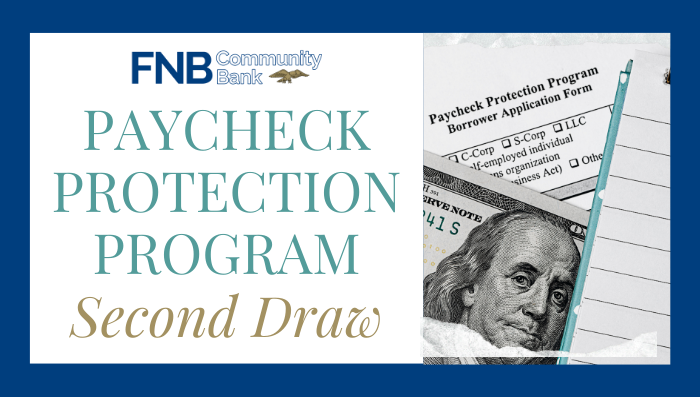 PPP Loan - Second Draw
01/11/2021
SBA, in consultation with the U.S. Treasury Department, will open the Paycheck Protection Program loan portal on Monday, January 11, 2021 at 9 am ET. When the PPP loan portal system opens, it will initially accept First Draw PPP loan applications from participating CFIs, which include Community Development Financial Institutions (CDFIs), Minority Depository Institutions (MDIs), Certified Development Companies (CDCs), and Microloan Intermediaries.
Loan Details
The Paycheck Protection Program is a loan designed to provide a direct incentive for small businesses to keep their workers on the payroll.
SBA will forgive loans if all employee retention criteria are met, and the funds are used for eligible expenses.
PPP loans have an interest rate of 1%.
Loans issued prior to June 5, 2020 have a maturity of 2 years. Loans issued after June 5, 2020 have a maturity of 5 years.
Loan payments will be deferred for borrowers who apply for loan forgiveness until SBA remits the borrower's loan forgiveness amount to the lender. If a borrower does not apply for loan forgiveness, payments are deferred 10 months after the end of the covered period for the borrower's loan forgiveness (either 8 weeks or 24 weeks).
No collateral or personal guarantees are required.
Neither the government nor lenders will charge small businesses any fees.
A borrower is generally eligible for a Second Draw PPP Loan if the borrower:
Previously received a First Draw PPP Loan and will or has used the full amount only for authorized uses;
Has no more than 300 employees; and
Can demonstrate at least a 25% reduction in gross receipts between comparable quarters in 2019 and 2020.
How To Apply
Current FNB Community Bank commercial customers can apply through their lender at FNB. Request your commercial banker to contact you by clicking here.
Other regulated lenders will be available to make these loans once they are approved and enrolled in the program.
Back to Blog