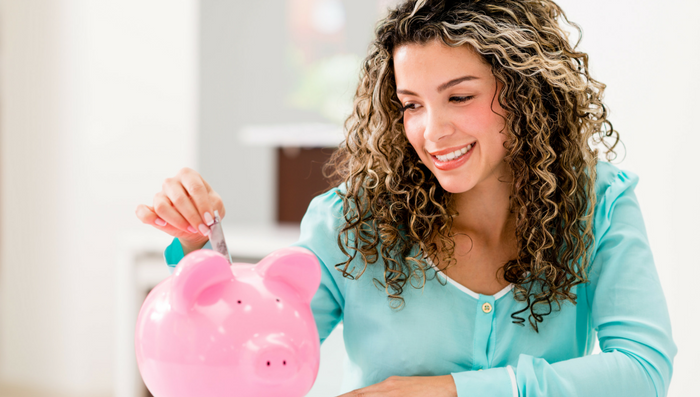 Financial Literacy Month continued
By: Julie Waddle
Published in: Financial Literacy
Step 16: Make a commitment
One trick to keeping your financial goals is to remind yourself of your goals on a regular basis. At the very least, you should document your high priority goals and post them where you will see them every day. You can create your own custom goal certificates in three easy steps.
1. Select your favorite customizable and printable goal certificate.
2. Press the "Create" button.
3. View and print your goal certificate!
For even more motivation, you might also want to try treasure mapping. To create a visual "map" of what you are striving for, surround yourself with photographs. For example, if your goal is to save enough money to go to Hawaii, try cutting pictures of Hawaiian scenes out of magazines and plastering them around your home or car, or tacking them to the bulletin board next to your desk.
For more thoughts to help keep you on track, read what Mary of simplyforties.com has to say about making a financial commitment.
Step 17: Save for your goals
Most likely, reaching your financial goals will require you to commit to saving. That is one reason saving is an essential part of any money management plan. Set money aside each month to save for your short-, mid-, and long-term goals. If you are having trouble establishing a nest-egg, don't despair. The following are some simple ways to boost your savings:
Make it automatic. Having money automatically deducted from your checking account into a savings account helps to ensure that you meet your savings' goal. Even better, if your employer has the capability to automatically deposit your paycheck, have some of the funds directed into a savings account.
Turn a hobby into income. Many people have untapped talents. Whether you enjoy photography, painting, knitting, or metal work, consider possible ways to earn money by doing what you love best. Babysitting and lawn work are also good ways to earn additional money.
Downsize. Most people have garages, basements, and attics full of items they no longer want or need. Holding a garage sale or advertising some of your things online could result in a boost to your savings account.
Use gifts wisely. If you receive unexpected funds, do not be tempted to spend them frivolously. Instead, put all money received from tax refunds, inheritances and gifts into an interest-bearing savings account.
Green Panda Treehouse blogger also offers tips to ensure you reach your goals.
Step 18: Where does all the money go?
For most people, financial health doesn't depend on how much they earn, but how much they spend. To help you find out where your money is going, the next three steps involve tracking expenses.
You will start with identifying variable expenses. Variable expenses are those that vary from month to month, such as clothing and food. You have the most amount of control over these types of expenses.
To help you identify your variable expenses, print and carry this Record of Daily Expenditures. Carry this form (or a simple notebook) with you and record every penny you spend — even if it's only a soft drink from the convenience store, or a trip to the drive-thru at a fast food restaurant.
While tracking variable expenses is only one of the 30 steps, you are encouraged to continue tracking expenses well beyond the time it takes to complete the 30-step plan. The longer you track expenses, the better your chances of success.
Step 19: Identify and document fixed monthly expenses
Fixed expenses are those that do not vary from month to month. Examples of fixed expenses include car payments and mortgage or rent payments. Fixed expenses are the most difficult to manipulate. Use this simple worksheet to determine how much money per month you must dedicate to cover your fixed expenses.
For more information on identifying fixed expenses, read Money Coach Brad Hawkins' advice.
Step 20: Identify and plan for periodics
You may have a good idea of where the money is going on a day-to-day basis, but before you start working on a spending plan or budget, it is important to call attention to the top budget breaker: periodic expenses.
Periodic expenses are those that are not paid on a regular monthly basis. For example, both holiday and tax debts are periodic, meaning they are not part of regular monthly expenditures. In that regard, they join the ranks of other expenses such as auto registrations and vacations.
Often, we know when these events will occur, but still fail to plan for them. Unfortunately, when these expenses arise, many people rely upon credit to extend their monthly incomes; using credit this way is one sign of pending financial trouble. To avoid this scenario, follow these tips when planning for periodics:
Determine what you spent last year for periodic expenses. Assume that you will spend at least this amount again this year.
Don't hide expenses. Just because you don't list an expense doesn't mean you won't have to spend money on it. Don't forget things like back-to-school expenses, auto repairs, and birthday gifts.
Plan for premiums. Remember that some items, such as auto insurance premiums, may occur more than once a year.
Open a savings account. When you have a realistic idea of what you will need to spend on periodic expenses during the year, divide the total amount by 12 and save that amount each month. Designating a savings account for this purpose may help to organize this process. Check with your financial institution, you may even be able to have the amount automatically transferred.
Here is an example of a periodic expense can impact your monthly budget:
Example: Annual auto registrations
Assume your annual auto registrations cost $800/year. How much should you budget each month to cover this expense (even if you don't have to pay it monthly)?
$800 / 12 = $67/month
So, to be prepared for the annual $800 expense, you must put $67 each month into a savings account or into an "auto registration" envelope. That way, you will not have to rely on credit when the bill comes due.
Use this simple calculator to determine how much money you need to save per month to cover periodic expenses.
Step 21: Document your spending
It is time to record your fixed, variable, and periodic expenses in the first column of the Expense Worksheet; do not worry about the other columns at this time.
This worksheet will help you to identify expenses that can be reduced and prevent impulse spending. The process may be time consuming, but it is vital to gaining control of your finances.
After you have calculated the total of your existing expenditures, add your income information. For this, it might be helpful to refer to your Income Worksheet.
Subtract the amount of your total monthly expenses from the amount of your monthly net income. If your expenses exceed your income, rest assured that there are ways to balance the budget.
Keep your Expense Worksheet handy — it will soon become your road map to financial wellness.
Step 22: Identify ways to reduce spending
To create a balanced budget or increase savings, most people will have to find a way to earn more or spend less. If the idea of spending less sounds challenging, try starting small.
It's important to understand that every purchase we make — excluding such absolute necessities as food, rent, and gas for the car — is a choice. The America Saves coalition offers the following examples of how making some small changes can save you an impressive $150 per month.
Tip
Monthly Saving
Save $.50 in loose change
$18
Cut soda consumption by one liter a week
$6
Bring lunch to work
$60
Send one free e-card per month instead of buying a card
$4
Buy grocery store brands
$10
Use fewer phone features
$10
Eliminate premium cable channels
$20
Borrow, rather than buy, one book per month
$15
Hand wash, rather than dry clean, one shirt per month
$3
Comparison shop for gas (saving an estimated $.25/gallon)
$4

---

Savings
$150
Finally, in addition to making small changes, resolve to boost your savings by including all of your "windfall" money. This "free money" includes increased income from a pay increase, birthday gifts, insurance settlements, escrow overages, tax refunds, and inheritances.
For more advice, read Bargain Babe's 13 tips to reduce spending.
Step 23: Save money on groceries
Saving money on groceries doesn't have to be hard work. Making just some small changes can net big rewards to your pocketbook. Simple changes in the way you plan and shop can help you reduce the amount you're spending on groceries.

Preparing a weekly menu of what you would like to eat is the first step in effective grocery buying. You will want to list entrees as well as any side dishes, salads or deserts you are planning to prepare.
After you have your menus planned, make a list of ingredients you will need to prepare each meal. There is no right or wrong way to make a list. It is essentially a listing of all the foods you will need to cook the meals you have planned for the week. You may want to group them in the order they appear in the store or by category such as meats, fruits and vegetables, canned items, frozen foods, cleaning supplies, and miscellaneous items.

For more information about saving money on groceries, download the free Cheap Eats eBook.
Step 24: Share a tip for change
When you identify ways to reduce spending, you are being honest with yourself about your finances. Being honest with yourself and others about your finances will ensure your success.
We've compiled all of our favorite consumer tips from over the years, which you can read for free by downloading the Tips for Change eBook.
Because it is also important to share financial information with younger generations, Gail Cavanaugh, the founder of Students Assembled to Value Economical Money Management, discusses student spending habits.
Step 25: Document your desired spending
Now that you have identified some areas where you would like to make some changes, it is time to revisit your Expense Worksheet.
In the second column titled "adjusted," indicate how you would like to change your spending. For example, if you are currently spending $80 per month on the Dry Cleaning/Laundry category and you wish to spend only $30 per month, write -$50 in the "adjusted" column. If you are saving only $50 per month, but would like to save $100, write +50 in the "adjusted" column.
Remember, this is not about sacrifice; it is about making choices to help you achieve your goals.
After you have made adjustments, you can move forward using this spending plan as a road map for achieving your goals.
Step 26: Protect yourself by performing financial check-ups
Being in charge of the family's finances is an awesome responsibility. In addition to providing your family with the basic necessities of life, you may feel responsible for their overall financial well-being. One of the best ways to care for your family is to be sure that you are prepared if something were to happen to you or another member of your family.
Perform a health insurance check-up. Find out exactly what services are covered and learn what preventive services are offered while performing your health insurance check-up. Ask if there limits on medical tests, out-of-hospital care, mental health care, and prescription drugs. Research your premiums and co-payments. Explore the difference in cost between using doctors in the network and those outside it. Find out if there a limit to the maximum you would pay out-of-pocket. If you do not have health insurance, seek assistance from Medicaid or your local state-sponsored plan.
Perform an auto insurance check-up. Auto insurance pays for damages, injuries and other losses specifically covered by your policy. Most states require vehicle owners to purchase liability insurance, which covers bodily injury and property damage. Read your policy carefully while performing your auto insurance check-up to know exactly what it covers. Pay special attention to the exclusions section, which lists the things your policy does not cover.
Obtain adequate life insurance. The life insurance coverage offered by you employer may not be enough. Realistically determine how much life insurance you need and then shop around. Term insurance is the most affordable type of life insurance, just be sure that the term lasts until your children are financially self-sufficient.
Don't skimp on disability insurance. At any given age, your chances of becoming disabled are higher than your chances of dying. If your employer does not offer group disability insurance, seek an individual policy.
Protect your assets. You don't need to have a lot of assets to need a will. Most importantly, a will allows you name guardians for your children. Without a will, state law determines how your assets will be distributed. Keep your will in a secure location, such as a fireproof filing cabinet or safety deposit box.
Because this step is so important, create a customizable and printable goal certificate to ensure that you address these important protections.
Step 27: Understand the cost of credit
It is important to carefully weigh your options before making a credit decision. When you sign or cosign an application for credit, you are agreeing to all its terms. Moving forward, commit to understand everything to which you are agreeing. At the very least, you will want to compare the following terms before making a borrowing decision:
Interest rate or APR - APR is the annual interest rate you will be charged on a loan or the unpaid balance of a credit card.
Length of the loan - as the length of the loan increases, the monthly payment will decrease, but the total interest charge will increase.
Finance charge - total cost of the loan stated in dollars.
Credit limit - the maximum amount you can borrow at any time.
Minimum monthly payment - the smallest payment your creditor will accept.
Grace period - number of days you have to pay your bill in full before interest is charged.
Over the limit and late fees - the amount you will be charged if you are late with a payment or go over your credit limit.
Use these worksheets to compare the total cost of a loan or credit card from three different sources.
Step 28: Assemble a financial team
Managing your finances can be like putting together a puzzle; all the pieces need to fit in order to be rewarded with the "big picture." Working with one or more of these financial professionals can help put the pieces in place.
Tax advisor. Tax advisors provide tax advice and assistance to consumers. Tax advisors can help you to navigate tax laws, prepare complete and accurate returns, and develop a strategic tax plan.
Credit counselor. If you are struggling with debt payments, credit counseling can help. You should contact a credit counseling agency at the first sign that your debts are becoming unmanageable. Things to look for in a quality agency include history, quality, accessibility, knowledge and good customer service.
Financial planner. Whether you are just out of college or entering retirement, most everyone can benefit from the help of a trusted financial advisor. Professional financial planners do more than offer investment advice. A financial planner may also be able to help by analyzing employee benefits, discovering insurance needs, and developing a system to manage cash flow. Financial planners can also help with estate planning and may have relationships other professionals, such as accountants or attorneys.
Lawyer. Lawyers can help consumers by preparing important legal documents such as a living trust. An attorney can also be very helpful if you need to consider bankruptcy or want to challenge a wage garnishment. Couples facing a complicated divorce can also benefit from an attorney's advice.
Lawyers can also assist consumers when a violation of the law has occurred. For example, if you feel that a creditor has violated the Fair Debt Collection Practices Act you may be able to sue for harassment. Working with an attorney can help you to understand your rights.
Before working with any financial professional, be sure to check their credentials. Ask specific questions about their history and areas of expertise. Finally, be sure that you are comfortable with the advisors you choose; ideally, you will be financial partners for life.
Step 29: Appreciate the benefits
Change may be hard, but the payoff can be priceless. In addition to improving your financial situation, you may also find your money management skills can benefit other aspects of your life.
Consider the following benefits in this checklist. Place a check next to those you will enjoy as a result of taking ownership of your finances. Feel free to add others — the possibilities are endless.
Step 30: Moving forward
Congratulations! You have given a great deal of thought to your financial situation, your spending habits, and the change process. You now have the knowledge necessary to make positive decisions that will ensure a successful financial future.
Back to Blog