Merchant Card Services
Do you cringe every time a potential customer asks, "Do you take credit?" Make it easy for yourself and your business with our Merchant Card services. Boost your bottom line and expand your customer base in one fell swoop. And next time, proudly say, "Yes!" with the help of FNB.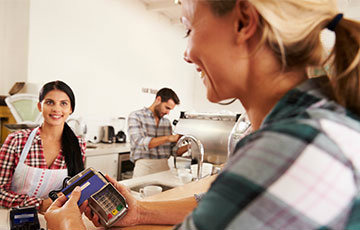 Summary
Dedicated personal service
To set up your new service, call us today at (405) 732-4571 Ext. 3224.
For 24/7 terminal support, call (800) 228-0210. For all other questions or concerns, please call (800) 981-8853 between 8 AM and 7 PM (CST) Mon-Fri, and a representative will be able to assist you.
ETC Processing
ETC offers a more productive and profitable way of processing your daily Visa® and MasterCard® deposits. It eliminates the need for preparing and depositing your sales using an authorization terminal hooked into your telephone line.
The terminal authorizes and verifies each transaction eliminating the need to check warning bulletins or get voice authorizations. Common math errors are eliminated and your account is credited sooner than paper deposits. Sales and credit tickets still need to be produced but you retain them instead of the bank.
Because of the minimal handling by the bank, we are in most cases able to lower your discount rate as much as 40%. That means more money in your pocket each month!
If you are interested in this program, please let us know and we can make arrangements for the purchase of the needed equipment.
Touchtone Processing
Touchtone processing is also an alternative. There is no equipment to purchase and the deposit is made into your account electronically each evening automatically.
The monthly maintenance fee is $7.50 plus a discount rate that will be applied to the total monthly sales. These are debited from the commercial checking account on a monthly basis.