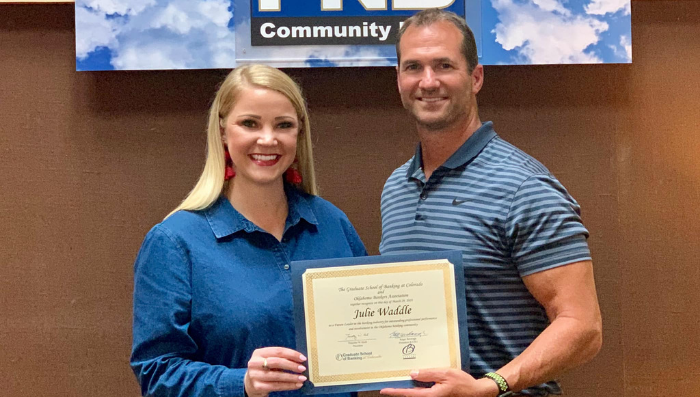 Julie Waddle receives Scholarship to the Graduate School of Banking at Colorado
06/12/2019
Julie Waddle, Assistant Vice President & Digital Marketing Manager at FNB Community Bank was recently awarded the "Future Leaders Scholarship" from the Oklahoma Bankers Association and the Graduate School of Banking at Colorado.
The scholarship is awarded to one banker per state, per calendar year. Hosted each July at the University of Colorado Boulder, this 25-month graduate school of banking delivers a relevant and challenging curriculum that deepens students' understanding of community banking.
"We are extremely proud of the work Julie has done for FNB and her community. The honor of receiving this scholarship will enhance her knowledge and skills as a 4th generation community banker! I am sure glad she is on my team!" – William Croak, FNB President/CEO
Waddle will start her graduate studies July 14, 2019 following the General Management & Technology career track. Between the annual July school sessions at Colorado, Waddle will complete multiple intersession projects covering various topics, including Bank Financial Analysis, Internet-Based Banking Services, Organization Culture, and Risk Management.
"I am looking forward to spending the next three summers at the Graduate School of Banking at Colorado learning valuable skills and making connections with other financial industry leaders. I am honored to have been selected for the Future Leaders Scholarship." – Julie Waddle, FNB AVP & Digital Marketing Manager
Back to Blog