This one little card can save you time at the checkout — whether you're shopping in person or online. Plus, you can earn rewards!
Works like a check — without having to write a check
Faster and easier than writing checks
Includes secure, EMV Chip technology*
Accepted anywhere Visa® is accepted (almost everywhere!)
Joint account holders may each receive a card (no need to share one checkbook)
Make withdrawals, transfers, and more at ATM terminals
Get cash back at participating merchants when using PIN debit
Save on the cost of ordering checks
Avoid carrying large amounts of cash
Each transaction appears on your monthly statement
Earn UChoose Rewards!
Traveling soon?
Your FNB debit card can be used anywhere that Visa is accepted — but using it out of state or out of country may alert the Fraud Department, which could temporarily disable your debit card (for your protection). To prevent an interruption, we recommend using your card as a PIN-based transaction while traveling.
When traveling internationally, we recommend that you set a travel notice on the card(s) you plan to use while traveling. To do so, contact our Solution Center at (405) 732-4571 or toll free at (800) 310-3576. You may also fill out this form with your travel details.
Show your spirit! Or celebrate your favorite pet, and more. With FNB Community Bank, you can customize your debit card. Apply for your card now to get started.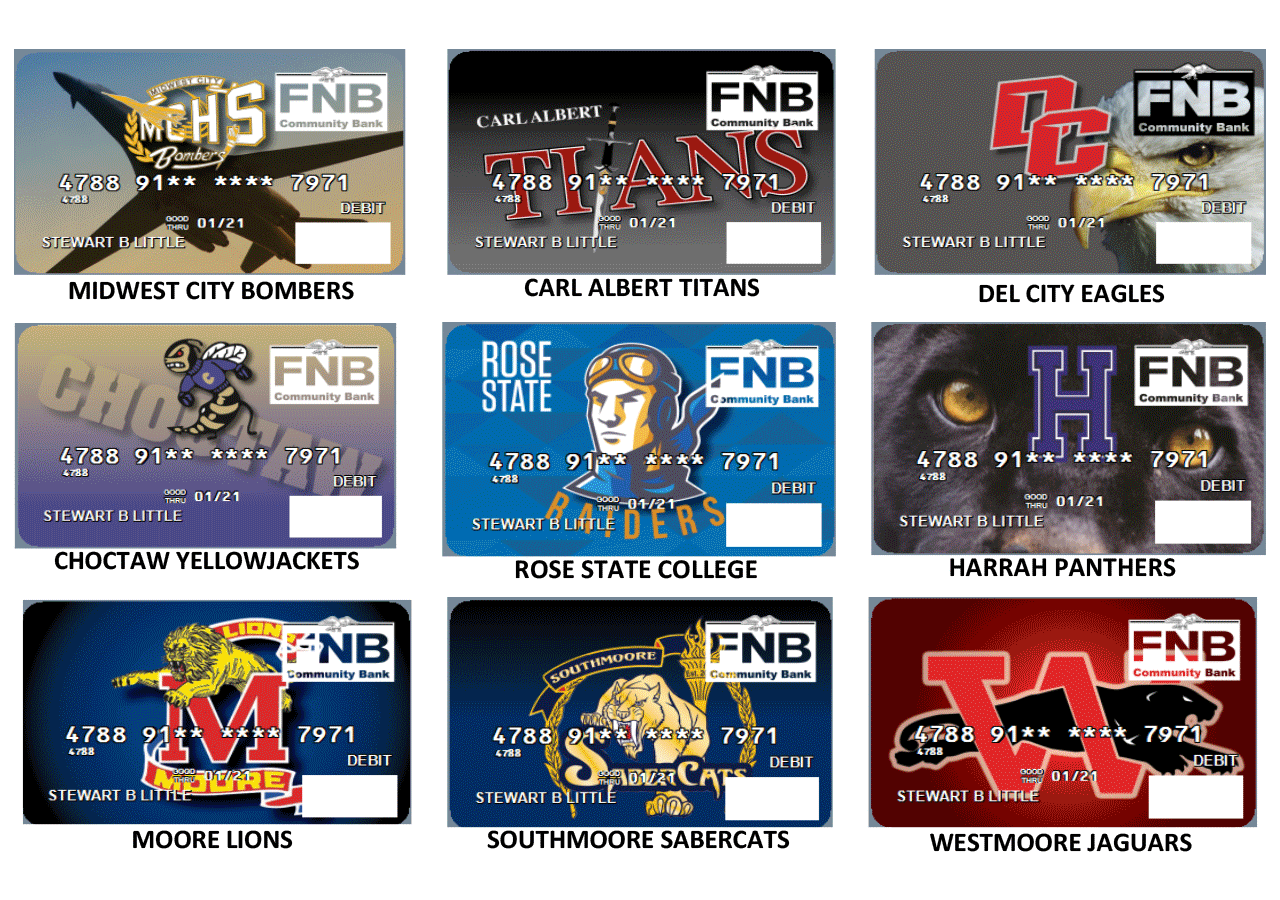 In addition to all of the general features of FNB debit cards, the EMV Chip cards will also include the following details.
An embedded computer chip in each chip card adds a new layer of security to point-of-sale and ATM transactions when used in chip-enabled card readers.*
These cards help protect you from fraud because the chip gives every transaction a unique code that can't be used again.
Instead of swiping the card through the terminal, a chip card is inserted into a chip-enabled reader and stays in during the full transaction.
It's as easy as 1, 2, 3 ...

Cardholders will insert their card, face up and chip end into the chip-enabled terminal.
Leave the card in the terminal during the entire transaction.
Follow the instructions on the screen and either sign or enter your PIN as needed. Be sure to remove your card and take the receipt when the transaction is complete.

There are no changes to the way payments are made on the Internet or by phone.
For merchants without chip-enabled terminals, cardholders will 'swipe' their card through the terminal, just as is done today.
EMV (Europay, Mastercard, Visa) ensures global security and acceptance so your card can be used everywhere.
Watch our online demo of how EMV Chip cards work!
*Customers will be sent their new EMV Chip Card about a month before the expiration date printed on their current debit card.