This one little card can save you time at the checkout — whether you're shopping in person or online. Plus, you can earn rewards when you sign up for uChoose Rewards!
Key Features
Earn UChoose Rewards
Contactless payments compatible
Extra security with EMV chip
Works like a check — without having to write a check
Faster and easier than writing checks
Includes secure, EMV Chip technology*
Accepted anywhere Visa® is accepted (almost everywhere!)
Joint account holders may each receive a card (no need to share one checkbook)
Make withdrawals, transfers, and more at ATM terminals
Get cash back at participating merchants when using PIN debit
Save on the cost of ordering checks
Avoid carrying large amounts of cash
Each transaction appears on your monthly statement
Sign up to earn UChoose Rewards!
Traveling soon?
Your FNB debit card can be used anywhere that Visa is accepted — but using it out of state or out of country may alert the Fraud Department, which could temporarily disable your debit card (for your protection). To prevent an interruption, we recommend using your card as a PIN-based transaction while traveling.
When traveling internationally, we recommend that you set a travel notice on the card(s) you plan to use while traveling. To do so, contact our Solution Center at (405) 732-4571 or toll free at (800) 310-3576. You may also fill out this form with your travel details.
Show your spirit! Or celebrate your favorite pet, and more. With FNB Community Bank, you can customize your debit card. Apply for your card now to get started.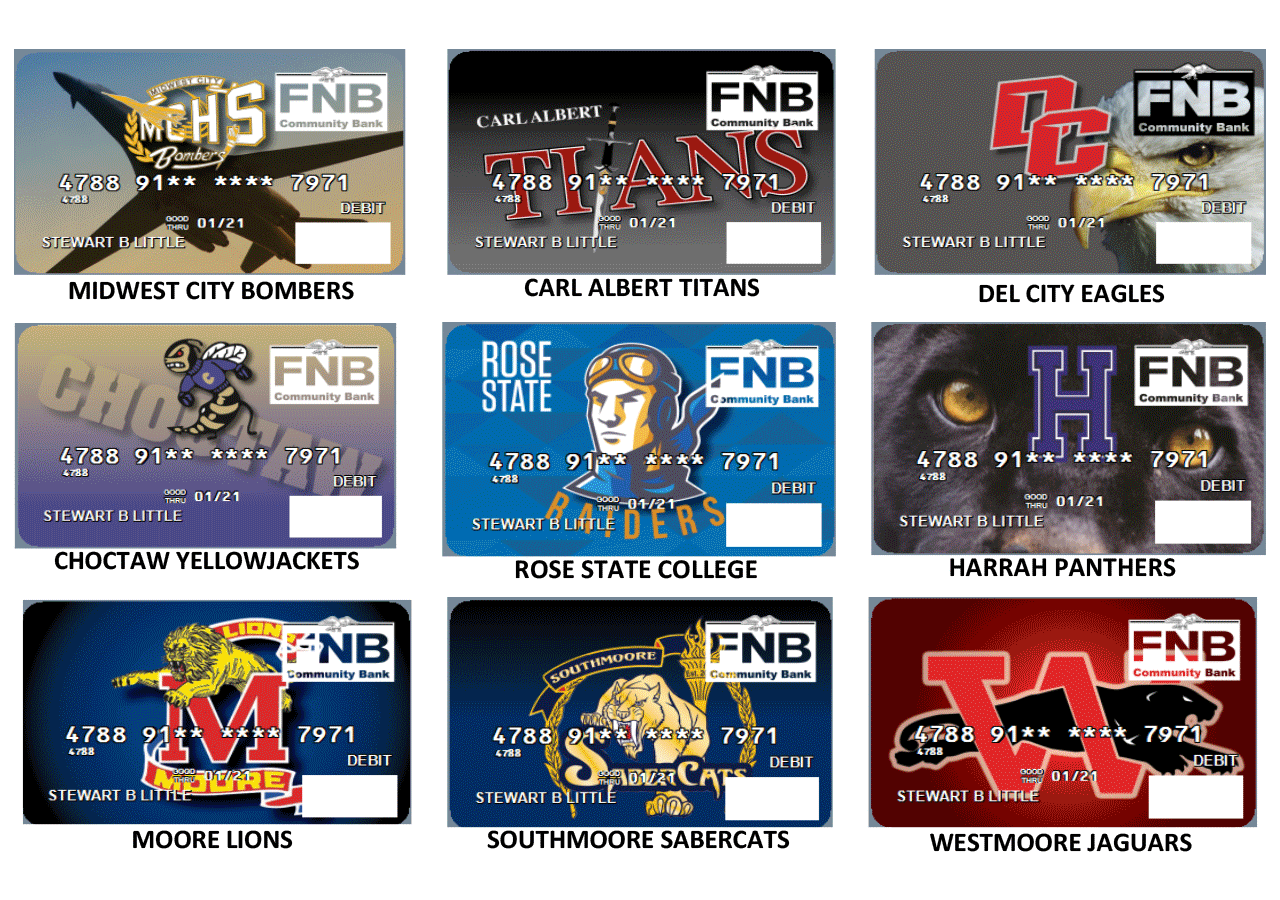 You can now tap to pay for a secure, convenient and touch-free way to checkout where you see the Contactless Symbol.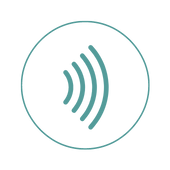 It's secure – Each tap to pay transaction generates a transaction-specific, one-time code that is extremely effective in reducing counterfeit fraud.
It's convenient – A simple tap is all it takes.
It's touch-free – Tapping to pay with your Visa contactless chip card can help you avoid touching surfaces at contactless-enabled checkout.
Here's all you need to know to use your new card confidently:
Look

Check for the Contactless Symbol on the store's checkout terminal.

Tap

When prompted, bring your card, mobile or wearable device within a few inches of the Contactless Symbol on the checkout terminal.

Go

Your payment is securely processed in seconds. Once your payment is confirmed, you're good to go!
There are no changes to the way payments are made on the Internet or by phone.
For merchants without contactless terminals, cardholders will 'swipe' or 'insert' their card at the terminal, just as is done today.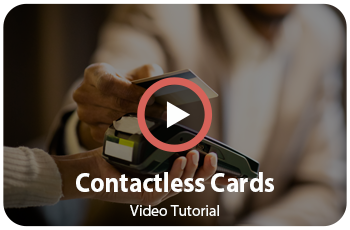 In addition to all of the general features of FNB debit cards, the EMV Chip cards will also include the following details.
An embedded computer chip in each chip card adds a new layer of security to point-of-sale and ATM transactions when used in chip-enabled card readers.*
These cards help protect you from fraud because the chip gives every transaction a unique code that can't be used again.
Instead of swiping the card through the terminal, a chip card is inserted into a chip-enabled reader and stays in during the full transaction.
It's as easy as 1, 2, 3 ...

Cardholders will insert their card, face up and chip end into the chip-enabled terminal.
Leave the card in the terminal during the entire transaction.
Follow the instructions on the screen and either sign or enter your PIN as needed. Be sure to remove your card and take the receipt when the transaction is complete.

There are no changes to the way payments are made on the Internet or by phone.
For merchants without chip-enabled terminals, cardholders will 'swipe' their card through the terminal, just as is done today.
EMV (Europay, Mastercard, Visa) ensures global security and acceptance so your card can be used everywhere.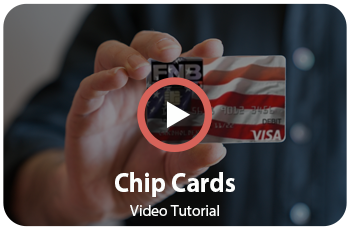 What You Need to Know about ATM/Debit Card Overdraft Services
An overdraft occurs when you do not have enough money in your account to cover a transaction, but we pay it anyway. We can cover your Overdrafts in two different ways:
We have standard Overdraft practices that come with your account.
We also offer overdraft Protection plans, such as a link to a Savings Account, which may be less expensive than our standard Overdraft practices. To learn more, ask us about these plans.
This notice explains our standard overdraft practices.
What are the standard overdraft practices that come with my account?
We strive to pay overdrafts for the following types of transactions:
Checks and other transactions made using your checking account number.
Automatic bill payments.
We do not authorize and pay overdrafts for the following types of transactions, unless you ask us to (see below):
ATM Transactions
Everyday Debit Card transactions
We pay overdrafts at our discretion, which means we do not guarantee that we will always authorize and pay any type of transaction.
If we do not authorize and pay an overdraft, your transaction will be declined.
What fees will I be charged if FNB Community Bank pays my overdrafts?
Under our standard overdraft practices:
We will charge you a fee of up to $32 each time we pay an overdraft.
What if I want FNB Community Bank to authorize and pay overdrafts on my everyday Debit Card transactions?
If you want us to authorize and pay overdrafts on ATM and everyday Debit Card transactions, you may call 405-732-4571 or (800)310-3576, visit www.fnbmwc.com or fill out the Opt In/Out Form, and present it to FNB Community Bank, or mail it to PO Box 10600 Midwest City, OK 73140.
The power to control your debit card is in your hands — literally! Use your phone to turn your card on and off, and more.
Turn your cards on/off at your discrection.
Know where every card is stored online.
Set spending limits based on location, amount, merchant type and transaction type.
Create travel plan notifications for your financial institution.
Easily dispute transactions.
Enjoy 24/7 access to your cards via our mobile app.
Easily add cards to digital wallets.
Access card credentials without needing your physical card.
Withdraw cash from ATMs without needing your card.
Activate cards instantly so there's no more waiting on new or replacement cards.
Apply for and receive a digital card instantly.
View, manage and redeem rewards.
Report lost or stolen cards in a couple of clicks.
Immediately turn off a lost or stolen card from your phone.
Keep in constant communication with your financial institution with two-way fraud alert.
Learn more about My Cards and how to make the most of it in this short video below.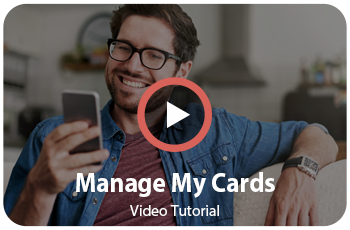 *Customers will be sent their new EMV Chip Card about a month before the expiration date printed on their current debit card.