Individual Retirement Accounts (IRAs)
Whether it's a day at the park or a visit with the grandkids — your retirement plans shouldn't involve the daily grind of work. Ensure a stress-free retirement by future-proofing your finances with an IRA. At FNB, we offer competitive rates on traditional and Roth IRAs to help you reach your goals, each offering unique tax advantages. It's never too late to get started — there's even a catch-up provision. Start growing your nest egg by opening an account today.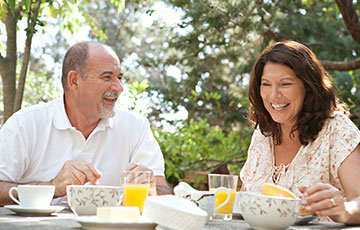 Summary
Save for retirement with tax advantages*
Earn competitive interest higher than regular savings
Pays monthly dividends
Available in traditional and Roth
Annual contribution limits apply
$1,000 annual "catch up" contributions allowed for ages 50 and better
No annual fees or set up fees
$100 minimum periodic deposits
Federally insured
Early withdrawals subject to penalty**
FDIC insured
$500 minimum deposit to open
Traditional vs. Roth
Traditional IRA
Tax-deferred earnings
Contributions may be tax deductible
Best option when rolling over your pension or 401(k)
Roth IRA
Contributions are not tax deductible
Tax-free earnings
Tax-free qualified withdrawals
More flexible access to funds than traditional IRA
*Consult a tax advisor. The maximum you may deduct from your taxes will be based on earnings for the year whether or not you or your spouse are covered by a pension plan. It is advisable to check with your tax consultant in order to determine how much of your contribution may be deductible.
**Penalty for early withdrawal is 6 months interest on the amount withdrawn. IRA accounts may start being withdrawn at age 59½ and must start being withdrawn by the age of 70½ . You may make maximum deposits of $6000; plus cost of living adjustment.
All IRAs are separately insured by the FDIC regardless of your other FNB account balances.