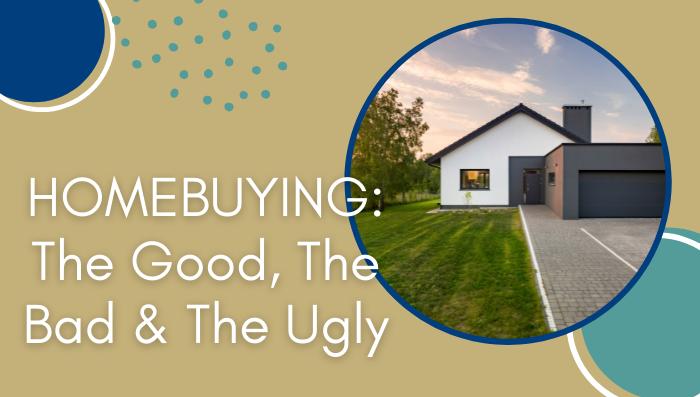 Homebuying: The Good, The Bad and The Ugly
06/01/2021
Did you know that June is Homeownership Month? This big step to creating equity and building personal wealth is highly competitive right now as the supply of homes is dwindling. Yet there is always a steady supply of new homeowners or folks on the hunt. So, why all the fuss over homeownership if there is so much headache?
It's true, there is a lot of headache anytime you're purchasing property even if your journey is smooth sailing. There is a lot of paperwork, money exchanged, and time invested. But the rewards can be plentiful. No matter where you are on your personal homebuying adventure we're here with some helpful insights to hopefully keep the surprises out of your experience.
The Good
When it comes to buying a home, there are a lot of good things to say (even if they don't all make sense from the outset.) From low interest rates to a plethora of loan options, a great loan officer will help you make the best decisions for your family and your pocketbook. If you're a first time homebuyer there are programs, grants and options to help alleviate the financial burden while the seasoned buyer will find a market with quick sales.
Buying a home is an investment into your future. When you own property and paying into a mortgage you are creating equity for yourself instead of for a landlord if you're renting. Whether you want to buy a fixer upper to flip later on or want to settle in for the long haul, you're probably going to sell your property for a profit in the future. Home prices are known for rising and rising quickly (especially in bull markets like this one) which means you'll likely see a gain even without major renovations or updates.
Your equity is part of your personal net worth. If you own property, that home is probably your largest financial asset. Owning property isn't just about having something for yourself to do with as you please, it's about building worth for your future.
The Bad
Overly competitive markets aren't really a benefit to anyone unless you're selling a home or have enough cash to buy one outright. Right now houses are selling in an average of 19 days and 48% are selling above asking price. Home prices are up 11% from a year ago which, combined with the increased competition, has created the most pessimistic homebuying outlook in a decade.
All of that said, don't rush into a home purchase just because of the good loan options, interest rates and programs right now. Homebuying will be one of the biggest decisions/purchases of your life, don't let frustration get you into a place you'll regret later. Take your time and find something you love.
The Ugly
This section isn't really about financing or the logistics of homebuying, it's about letting you know that it's okay to have a bad experience and to not let it poison you against home buying again in the future.
When we bought our condo a few years ago everything was going smoothly. Our offer was accepted, the unit came a little under the price in the appraisal (which meant we had to pay a little more out of pocket) and things were going well. Then the sellers didn't turn in their portion of the closing papers on time, so our closing date moved. And then it moved again. Suddenly we were closing on our new home 10 days after our apartment lease was up. We asked if we could move in early (the unit had been empty for months) and the owners charged us $1000. Even though the whole chain of events was their fault, we had to pay them for the privilege to move in early to a unit they weren't inhabiting.
The lesson here is no matter how much you have saved for your home purchase, the fees and everything that goes along with that, try and save a little more. In all we had a few thousand dollars in extra costs we hadn't budgeted for which only added to our first time home buying stress. You have to remember that the sellers aren't necessarily your friends and will probably not do you any favors.
---
Bottom line? Find a loan officer you can trust, hire a real estate agent who will fight for you and be kind to yourself. Owning a home is a huge accomplishment, don't forget to celebrate it!
Back to Blog