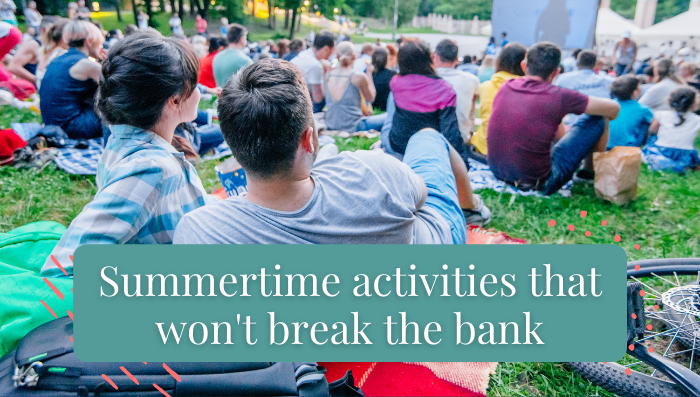 Budget Friendly Summer Fun
06/30/2021
After more than a year of being cooped up, kids (and parents) are in dire need of some summer fun. While days on end lying on a tropical beach sounds like paradise, it isn't a realistic summertime fantasy. Though there are plenty of ways to have fun with the whole family without breaking the bank. Here are some fun ways to keep the kiddos engaged, entertained, and elated this summer before they head back to school in the fall.
Outdoor film screenings
Have you missed going out to the movies in the last year? With the health situation nationwide improving all the time towns are starting to roll out their annual free outdoor film screenings again. Not only can social distancing be maintained outside, but you can bring your own snacks, blankets, and other things to get comfy for an outdoor movie night. Most area screenings are free or at a very low price which makes it a very budget friendly option. Here are 6 options in Oklahoma.
Another option is to hang a white sheet in your backyard and screen a film on your own. You may need to purchase a projector, (they can run $35+ or so online for simple ones) but you may also be able to rent one from your local library for free. Many libraries also have extensive media collections as well, so you can watch an old favorite or check out a new movie with your family.
Try Geocaching
For kiddos who love treasure hunts, geocaching is a particularly great adventure. It is essentially a scavenger hunt using GPS coordinates to locate a geocache (usually a small container) which can hide all sorts of things. A lot of times those treasures are little things like trinkets or coins, but sometimes they can be exciting (or even bizarre) finds like a llama on a farm or a $700 diamond watch!
Less outdoorsy inclined families might want to stick to Pokemon GO which has the same principles of geocaching with a cartoony twist. The Pokemon GO option also means some neighborhood or town exploration too, which can be an adventure in itself if you haven't ventured out in a while.
Scope out free admission days
A lot of area attractions (like museums, zoos or galleries) offer free admission or discount admission days. As places continue opening back up or resuming normal hours, these kinds of discounts are becoming more frequent. Keep an eye out for specials or sign up for email lists to stay informed on upcoming free days. These kinds of day trips can be costly, especially with family groups, so these special discount days could save a lot of money.
Free or cheap day camps
2021 is the summer for the return of day camps and they don't have to cost an arm or a leg. Some businesses like Bass Pro Shops and Cabela's have free summer camp events while local organizations like the YMCA or scouts have budget friendly options as well. Camps have come a long way in becoming more inclusive for all kinds of hobbies, so there should be something for everyone in the family at a fraction of the cost of overnight camps or even some other day camps.
DIY camps
If other camps don't float your boat, you could always design a DIY camp to best fit your family's summertime mood. From themed costume days to crafting parties or backyard camping, there is plenty to do if you design your own camp. Try having your kiddos write down (or tell you) their favorite things to do and incorporate those ideas into a camp. Who wouldn't love a princess tea party around a campfire with s'mores?
Go bowling!
Thanks to KidsBowlFree.com, children are being given two free bowling games per day this summer at over 1400 bowling alleys across the country. A family pass can also be purchased for a one time fee that covers up to four adults with the kids all summer long. This program has been around for years and continues to make family time easier to come by throughout the summer while giving you a break from the summer heat as well.
Summer reading contests
For bookworm families the summer can be a great time to catch up on some reading. With organizations like the New York Times hosting summer reading contests, it's even easier to entice less bookish kids to crack open a new book. Local libraries often host summer reading programs (with prizes!) to keep everyone learning through the summer months. Even companies like Barnes and Noble and Pizza Hut's Book It (remember earning free personal pan pizzas when you were a kid?) make reading extra fun with prizes to be won. Don't knock summer learning, just make it a little more fun!
Back to Blog