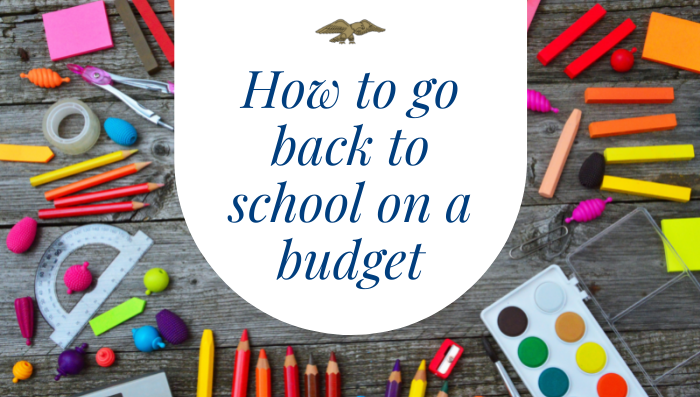 Back to school on a budget
08/01/2021
Much like the holiday season, back-to-school season is a big money maker for retailers, which means families might be spending more than they anticipated. The National Retail Foundation estimates that families with children from kindergarten through high school will spend around $849 and college students will spend $1200 on gear/necessities ahead of the new school year. These estimates are increases of 8% and 13% respectively.
Despite the record estimates for back-to-school spending, thrifty families can find plenty of ways to cut their school year costs. Here are a few simple ways to make sure you can send your kiddos back to the classroom without breaking the bank.
Take inventory
Before you even think about going back-to-school shopping, take inventory of what you've already got at home. You're likely to find at least a few things you won't need to then buy brand new for the new year. Make sure to check your students' backpack for unused pens, notebooks or other school gear. Do the same in your childrens' closets. Figure out what items are in good shape and what needs replacing. Then you can have a more thorough shopping list without spending money on things you don't really need.
Use uChoose Rewards points
If you are a FNB customer and use your debit card often, chances are that you have racked up some uChoose Rewards points. Don't forget that you can redeem your points for gift cards, items, and even cash back. We recommend utilizing the cash back option to get the most bang for your buck. Remember, you must have your debit card enrolled to begin earning uChoose Rewards points. Click here to learn more.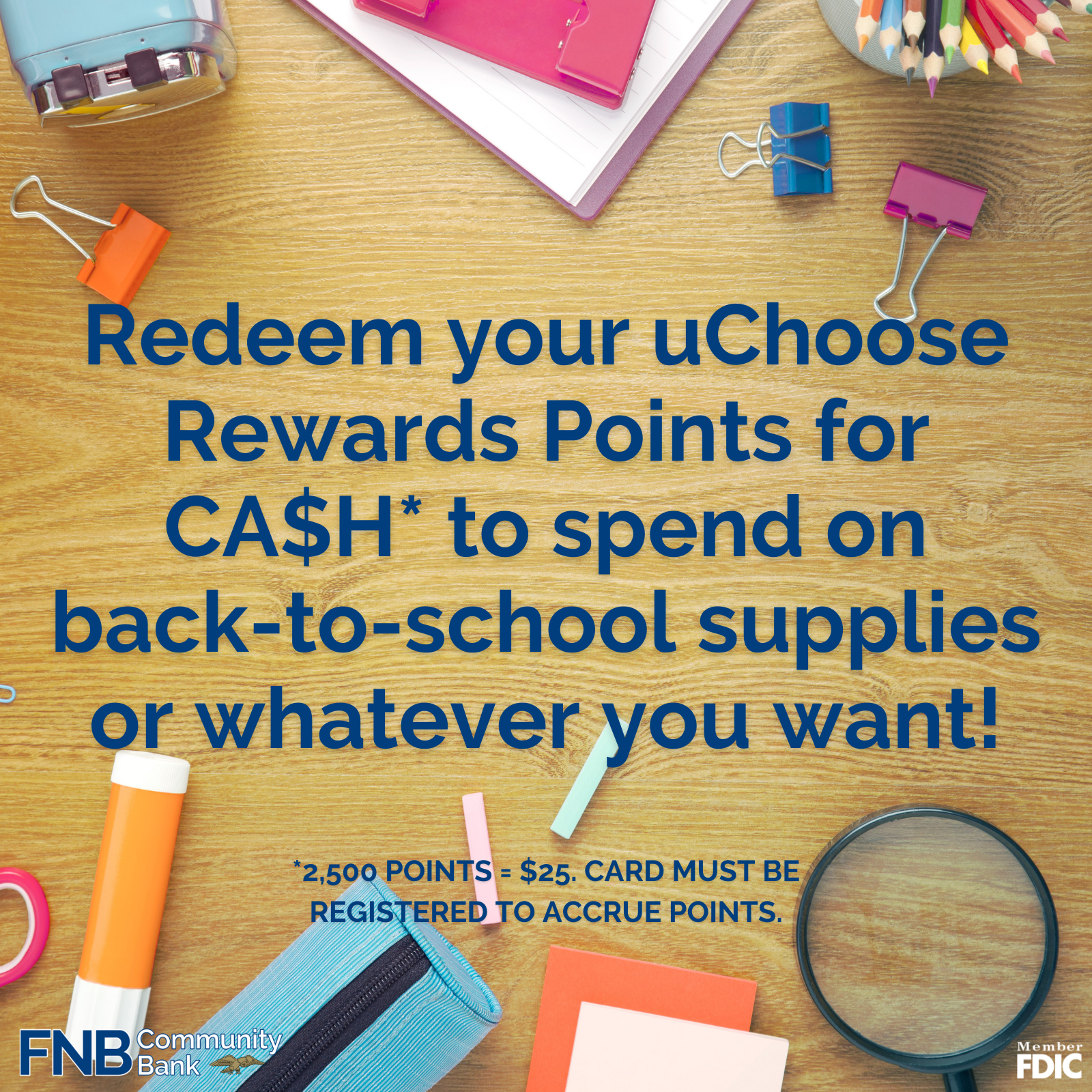 Extend the life of last year's gear
If last year's binders, notebooks, folders and other classroom gear are still in good shape, why not employ them for another year? Some creative crafting will transform gently loved pieces into brand new backpack treasures. Set your student up with some stickers, markers, Mod Podge and any other crafting pieces you have laying around the house. Not only will you save money, but your kids will have fun making their school stuff their own.
Don't have Mod Podge? Make your own!
1 part cheap white glue (like Elmer's)
2 parts room temperature water
Place into jar and shake
Stock up on summer
Fall clothes might be the highlight of retail's back-to-school fashion section, but there is no reason you can't stock up on clearance summer clothes. Plenty of summer wardrobe options work for the school year, especially t-shirts or tops that can be paired with sweatshirts or sweaters. In many places the school year begins when the weather is still warm, so it doesn't make sense to load up on sweaters right away. Never be afraid to check out the clearance rack, just don't overspend on things you don't need while you're browsing those great prices.
Don't knock the thrift
Before kids are done growing, their growth spurts often lead to frequent clothes shopping hauls. For the thriftiest parents, these hauls can be much less expensive when they're done at a local thrift store. Items like denim and knit are long-wear solutions which make them excellent second hand purchases. Not only will you be saving some money, you're also teaching your children how important it is to reduce, reuse and recycle. Thanks for saving some gently loved clothes from a landfill!
Track the doorbuster deals
Stores have been offering major doorbuster deals for back-to-school needs for years. It's important to keep track of these sales and take advantage to clear out that classroom list. After all, why spend more than you have to? Some of the best deals will save you big if you make sure to get to the sales.
Be sure to grab your local Sunday newspaper to find out when your local Staples, Target or any other big retailer is offering major deals. $.10 folders? $.50 glue? Stock up!
When the prices are really low, try to get to the sale on the first day if you can. That way you get better choices. If you wait too long all the best supplies might already be gone.
Dollar store freebies
When it comes to brand name school products, like Crayola and Bic, your local dollar store might be your best friend. The Krazy Coupon Lady recently put out a list of brand name items carried by dollar stores and, if you find the right coupons, you might come away with some free school supplies! Before you head out on your shopping trip, use your supplies list to try and find coupons online. Most dollar stores accept manufacturers coupons which means if the coupon is for at least $1 you're scoring school freebies.
Stay future focused
If you set a budget and you're going to stay in that budget, try to get the best bang for your buck. If you can squeeze a few more folders, crayons, or other items that will last the year into this year's school haul, go for it. Prices often increase the following year, so why not save a little in the long run by stocking up now? Especially if you're able to score some deeply discounted items, take advantage of the savings now--future you will thank you.
Back to Blog